Free Wi-Fi service is available
at the store with this mark .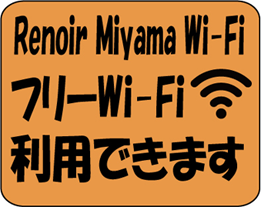 Available to provide a three -hour free guest code once a day
If you who have the Wi-Fi equipment anyone internet
Available to provide a three -hour free guest code once a day
※ Agree to the Wire and Wireless Co., Ltd. Terms of Use , please use.

Notice
Data transmitted through Renoir_Miyama_Wi-Fi is not encoded and could possibly be intercepted. Furthermore, there is no filtering system to block harmful websites. We ask that users of Renoir_Miyama_Wi-Fi be aware of these facts and exercise appropriate caution. Please refrain from inputting sensitive information such as IDs, passwords, credit card information, etc. Thank you.